About Factory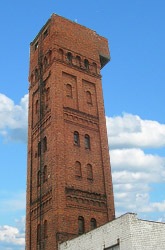 The history of "Daugavpils skrošu rūpnīca"("The Daugavpils Shot Factory") started in 1886, when Relsers's factory in Dinaburga was mentioned in L.Sabanejevs's "Hunter's Calendar". The factory was described as a large enterprise, which produced high-quality lead shots in the territory of Russia. Since 1886, near many church towers in Daugavpils, there rises also the tower of the Daugavpils Shot Factory, which is 28 meters high and which serves as a good landmark in the city as well as a visiting-card for the factory, at the same time being used for shot casting till nowadays. At first the tower of the shot factory was a wooden construction which was decorated with beautiful coronets and weathervanes in the upper part, but after a fire in 1911 it got its present remarkable look of red brick.
The location of the factory in the city is very interesting – the factory is built on the highest and driest spot of the city. From the top of the tower of the Daugavpils Shot Factory you can see an unusual city panorama towards the railway station and other buildings. At the top of the tower through the centuries shots are cast (nowadays it is a mechanical process), where at first the melted material is let flow in narrow spurts through a riddle which is adjusted to the size of each shot. Falling down, the material separates in the required pellet form. A fall from the height of 28 meters is not enough, therefore, there is a deepening of 20 meters inside the tower, i.e. a well with a lift that sifts the finished shots and sends them to the sorting according to calibers.
The history of the factory is very interesting and unique through the centuries, for the owners and the name of the factory have changed, but the production of shots and ammunition continues also nowadays, combining traditions with progress.
The Daugavpils Shot Factory today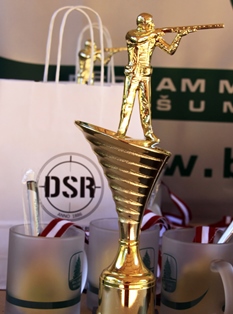 9 types of bullets for smooth-bore weapons as well as bullets for pneumatic weapons, buckshots and shots are produced in the Daugavpils Shot Factory. A great deal of the production is exported to Germany. Moreover, our production is popular among hunters in Latvia and its neighbouring countries – Russia, Belarus, Ukraine, Lithuania, Estonia and more.
The specialists at our company have developed a unique bullet stabilizer, which ensures a gradual rise of pressure and improves the speed of a bullet. A bullet with polymer coating for preventing barrel residue is also a new product. Moreover, a perfect balance of ammunition cartridge is achieved.
The management and the specialists of the factory wish to thank all the potential clients for choosing our products.

5634